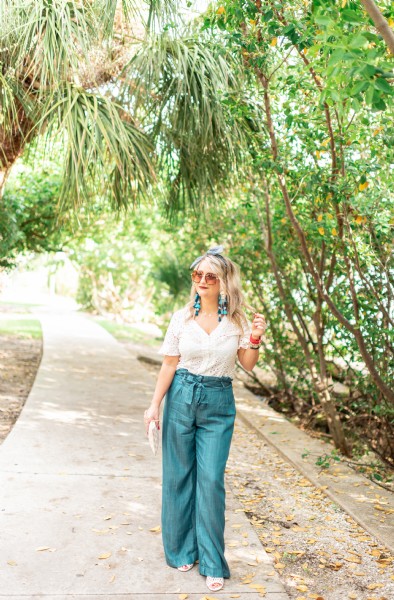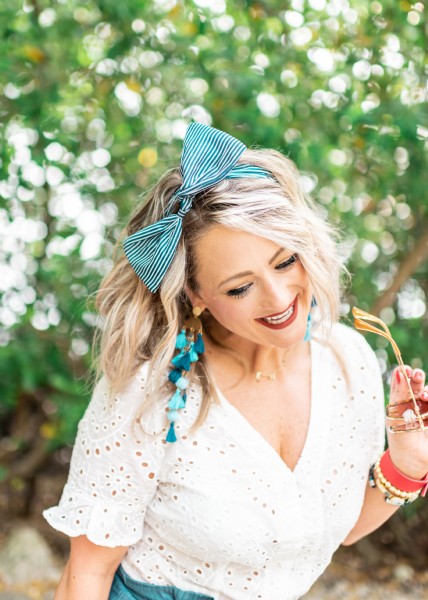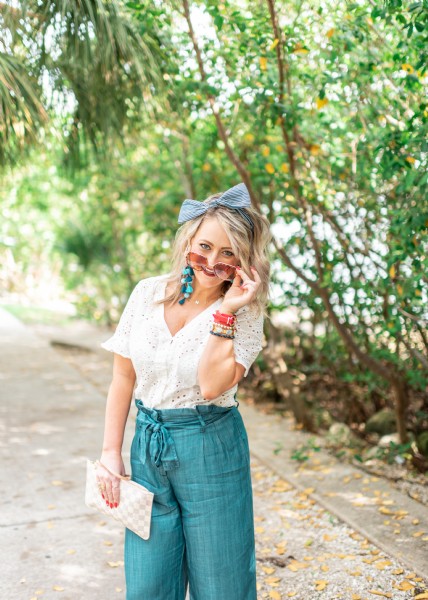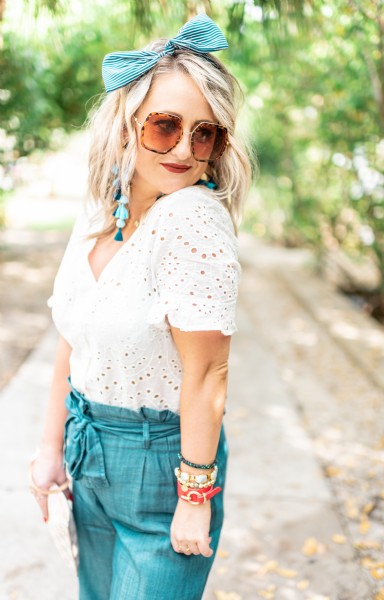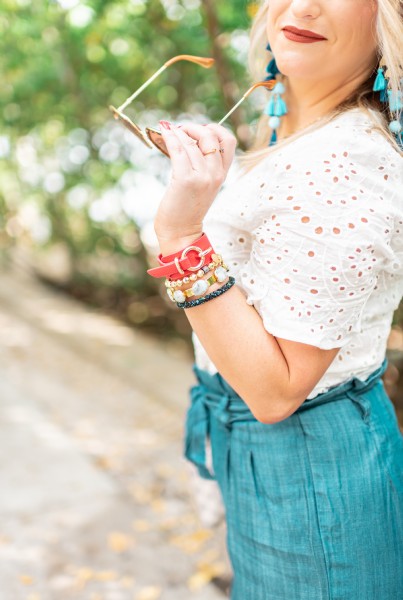 Photos by Christina Jones Photo
I met Erika Williner of Erika Williner Designs at the Fly As a Mother event at Don Me Now Bubbly Barchique in Channelside Tampa, FL. I didn't get a chance to chat with her too much but I was immediately drawn to her handcrafted jewelry. I noticed that her line was very cohesive and similar to some current pieces lining the Nordstrom shelves, but she also had a plethora of one-of-a-kind inventory as well. She has such a fantastic variety from classic pearls, to trendy tassels and designer dupes.
I bought an incredible ring, that is made up of 6 multi-colored rings fastened by a rhinestone encrusted safety pin. I had never seen anything like it and I had to have it. I was like "Oh I am sure it's outrageous but I need it". I walked up to Erika and asked how much, she said it was $34, I was floored at how reasonable her prices are. I specialize in mostly affordable fashion and Erika's pricing falls in line between retail and wholesale. For instance, these tassel earrings in Nordstrom are $50, Erika sells for $25. Back to the ring, the safety pin came undone after a handful of wears and I lost it. I let Erika know and she immediately said she would send another one right away. I expected just to get the pin, but she sent me a whole new ring! I was taken back but her talent but most importantly her customer service. I knew I wanted to work with her.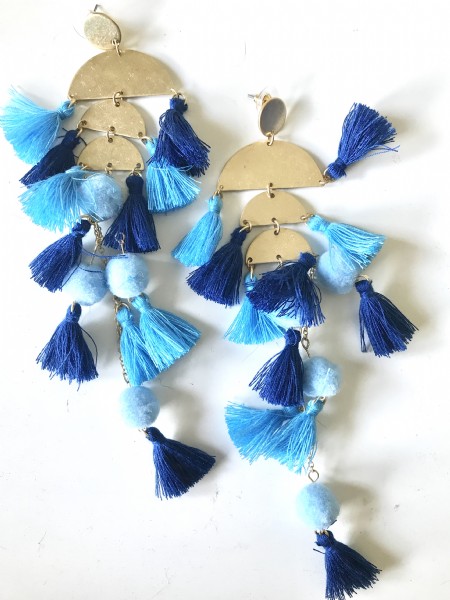 I asked Erika if she wanted to do a collaboration and she was just as excited as me about the idea. She asked if I wanted to come to her studio to see her pieces and to do a one-on-one interview. One thing I can tell you about me is that I love working with local designers and business owners, especially those who are really talented and fit my niche. Art comes in many different forms and Erika nailed her talents on the head.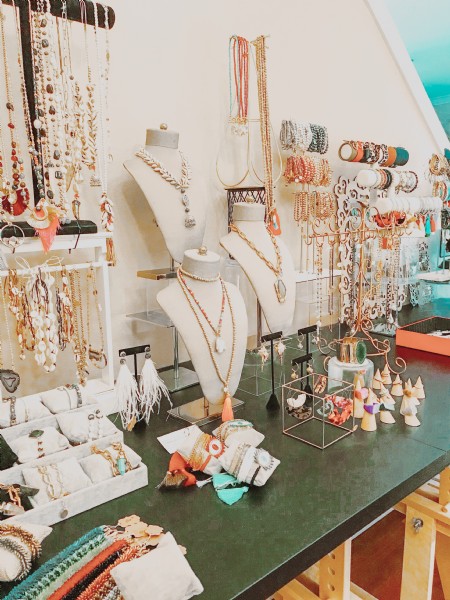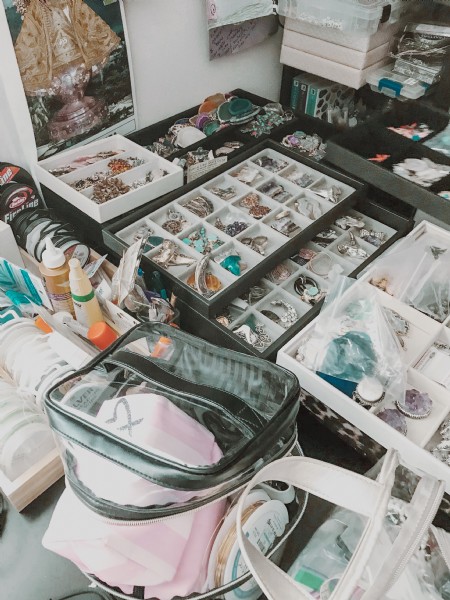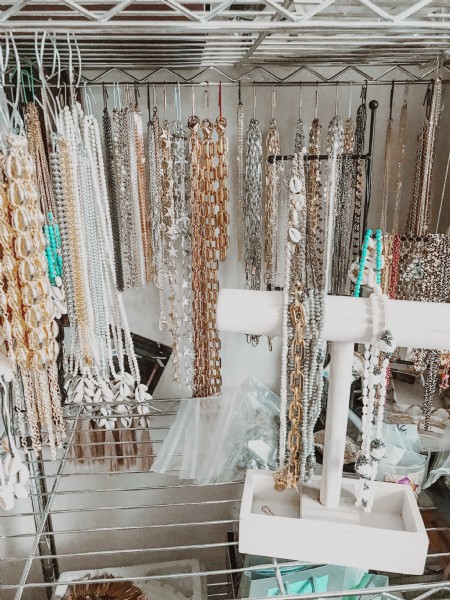 When I walked in, she greeted me at the door and a delicious scent wafted out the door; I was in heaven (I love candles!). Her home was beautiful. She invited me in and offered me a cup of coffee. She took me on a tour of her showroom as well as her studio where all the magic happens. I was amazed at home many pieces and raw material she had, and how organized they were.
We sat down in the showroom to chat where I sat sipping my coffee, facing Erika, who was wearing the most adorable gold studded espadrille shoes!!! I couldn't look away haha. Erika was born in Argentina but she left there in 2001 to venture to Canada for a few months. During that time she had a lot of free time where she started playing around with jewelry crafting. As I looked around at all the pieces I wondered how long she had been doing this and she said "the company officially started in 2012 after she went to grad school to create a business plan. Prior to then, I was making pieces for fun to give as gifts and then they would ask me for custom pieces for their friends and so on and so forth."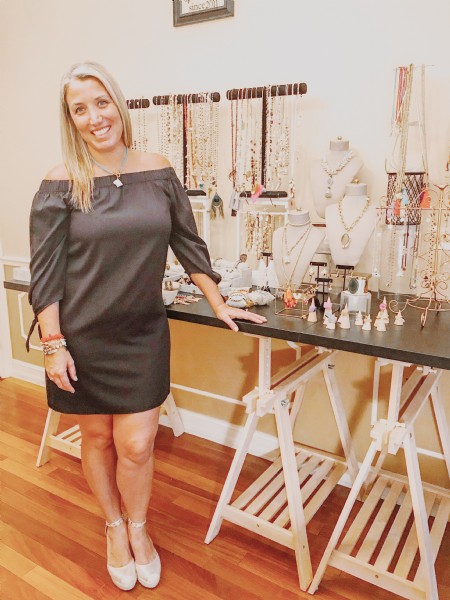 As a writer, I know inspiration comes differently for people. For me, I get mine from being out and about in the world, and personal experiences. I asked Erika about what her inspiration for starting her business was and she said she loved the way a person's face lit up when she presented them a piece they just adored. She loves making women feel beautiful and understanding and delivering exactly what someone envisions. So, Erika also does custom pieces by request as well!! Some of the custom or more detailed pieces can take up to 4-6 hours, but in general she spends 30-60 minutes on each piece.
Traveling is her number one outlet for her creativity. It is where she gets the ideas and inspiration for her pieces, and mostly in Europe. However, she told me about a cool trip they took to South America last year. "We took a trip to Rio last year and while I was there I created my Rio line incorporating shells and tassels inspired by Brazil." She said a lot of times at night when she is traveling is when she feels mostly motivated to craft and design.
We as fashionistas always have a style icon we look up to, currently, mine is Jessica Simpson. I love her down-low look and her high-end style. She wears it all very well. As for Erika, she loves the classic Sophia Loren look with the pearls and Chanel. I too love the classic look, my fictional style-con is Blair Waldorf from Gossip girl. Give me all the pearls and all the bows, k thanks!
Before I left Erika's beautiful home, I was telling her how last year I got super burnt out and really forgot my "why" of doing what I do. I lost my mo-jo for a little while. I asked her what she would tell anyone starting a business and she said, "dream big. Don't be fearful because it can hurt you in the long run." And I responded and said, "exactly, we should never let fear of drowning stop us from making a splash!!"
GIVE AWAY!!! We are giving away these earrnings on IG @stylemymind_jenn for the details. Earrings will be mailed on Monday July 1.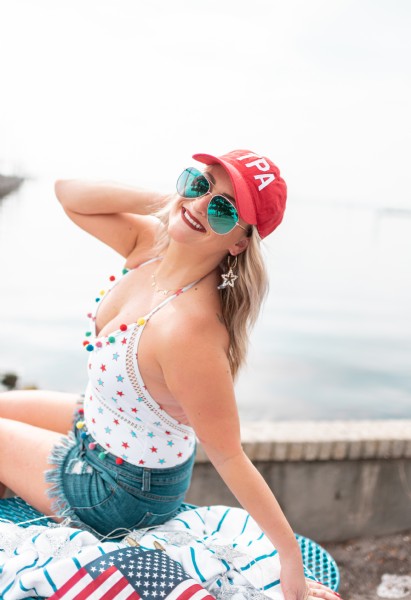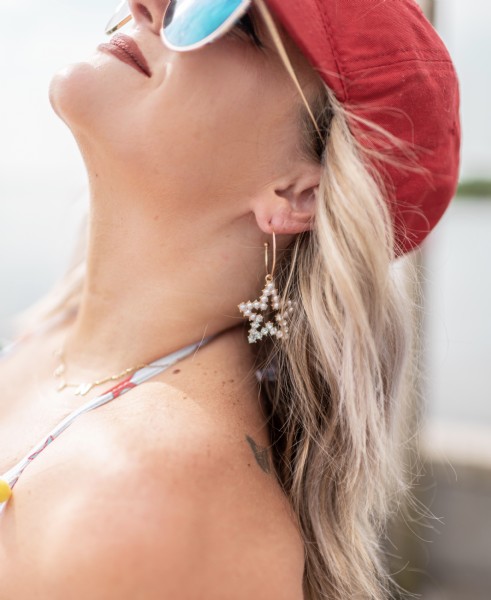 Some of my faves!
Stars in Hoops Earrings
Crystal Open Bangles
Solar Quartz Open Bangle

XO, Cheers!
Jenn